Fractional Chief Legal Officer Services
Are you a small to medium-sized business looking for reliable legal counsel? Are you tired of overpaying for legal help or getting hit with hidden costs. Even worse, most of your tasks are being handed over to junior associates even though you're paying partner rates. Look no further than FCLO. Our fractional chief legal officer (FCLO) services pair you with a dedicated legal professional who will handle all of your business's legal needs on an ongoing basis.
---
What is FCLO?
FCLO is a legal professional who provides comprehensive legal services to a business on a part-time, as-needed basis. This means that instead of hiring a full-time chief legal officer, you can access the expertise you need when you need it, without the added cost of a full-time salary.
---
---
Affordable
Our fractional services save you the cost of a full-time chief legal officer.
---
Expertise
Our legal professionals have years of experience and are well-versed in a wide range of legal areas.
---
Personalized
We work closely with you to provide customized solutions
for your business.
Benefits
We provide a wide range of benefits for small to medium-sized businesses
On-demand answers to legal questions

Notarization services

Assistance with sales contracts and negotiations

Intra and inter company mediation and arbitration services and representation

Outside counsel for litigation needs

HR assistance and compliance

Discounted legal assistance for employees in situations that don't also involve the company
By pairing you with a dedicated legal professional who will handle all of your business's legal needs on an ongoing basis, you can rest easy knowing that your interests are protected. Our services are affordable and tailored to your specific needs, so you only pay for the legal expertise you require.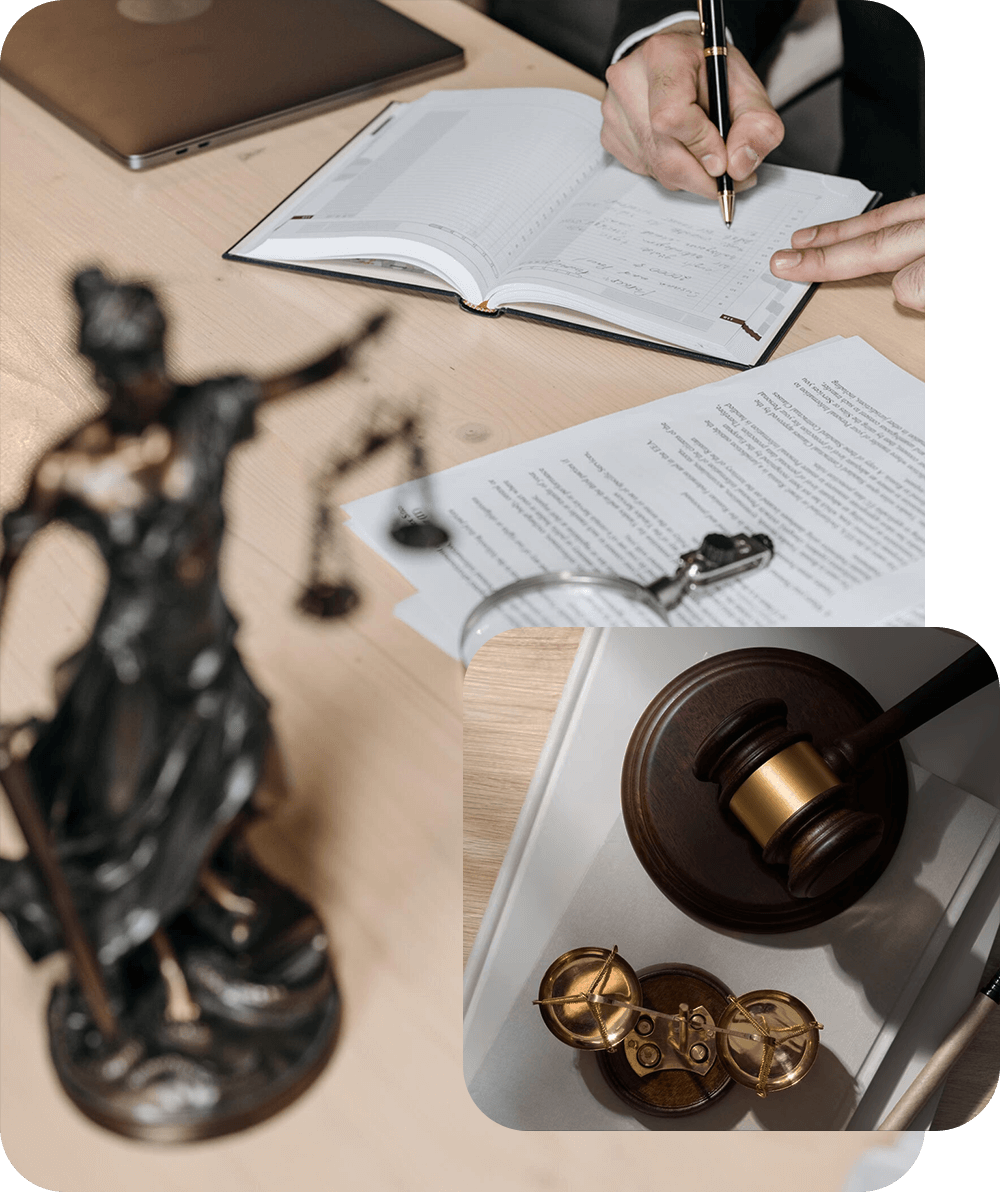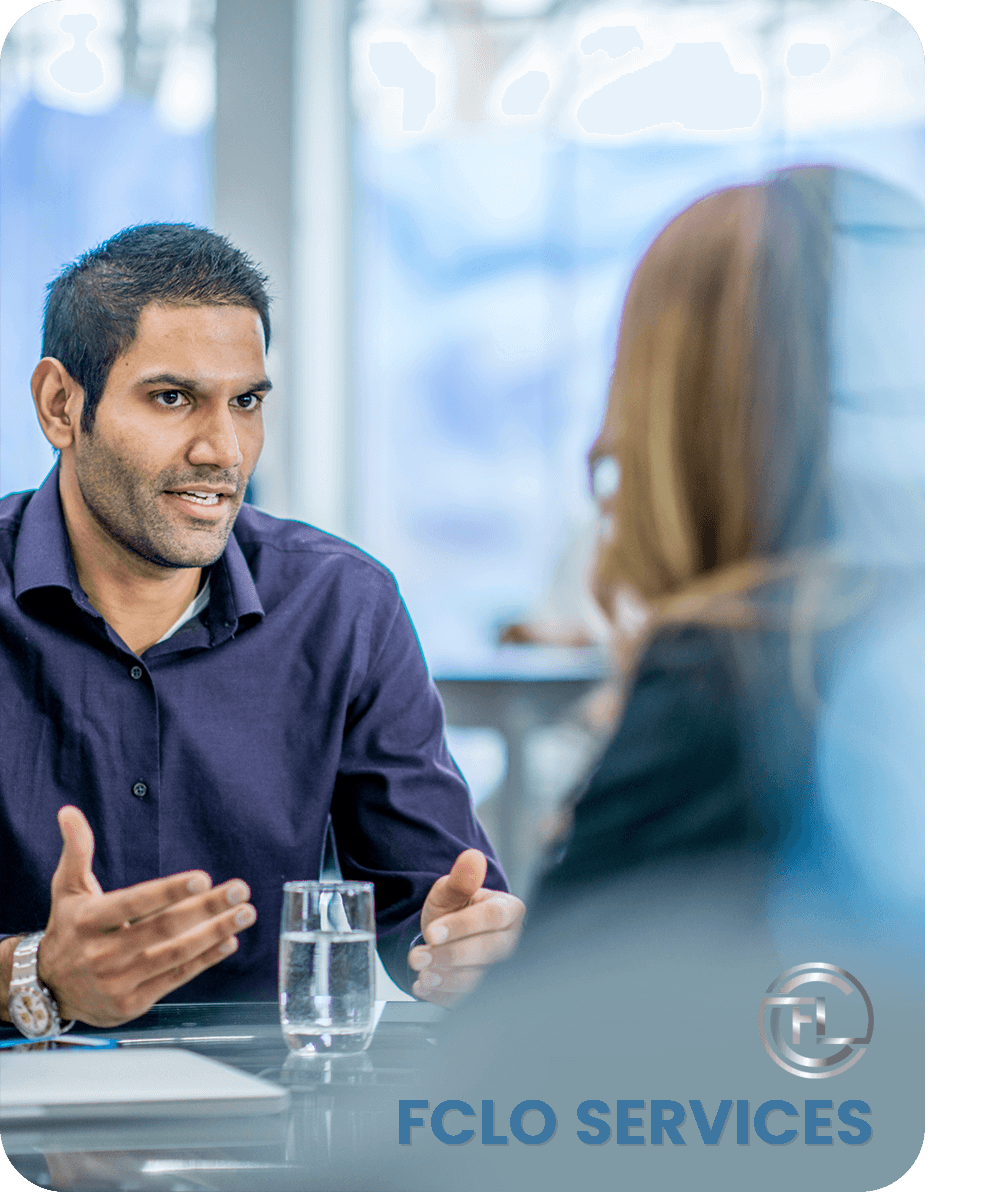 Services
Trusted expertise for all your needs.
Agreements

Business Formation

Employment

Immigration

General Legal Inquiries

Document Drafting

Document Review (anything & everything)

Patents (intellectual property) – registration & filing

Trademarks (intellectual property) – registration & filing

Securities & Finance (procedures, filing, navigating deadlines, etc.)

Mergers and acquisitions
FAQs
What is a fractional chief legal officer?

A Fractional Chief Legal Officer (FCLO) is an experienced lawyer who provides project-based or part- time legal counsel and guidance to individuals, businesses, and startups typically on a contract or as- needed basis. An FCLO can help businesses navigate legal issues, manage risk, and ensure compliance with laws and regulations without the need or expense of a full-time in-house counsel or a traditional law firm.

What is meant by In-House counsel?

In-house counsel is a full-time attorney or team of attorneys, that is employed by a single company. They have no other clients and work solely for the company handling all legal matters for the business. In-House counsel focuses specifically on your business and its varied needs. That allows them to hyper- focus on the immediate issues you face but leaves them lacking in specified or highly particularized legal knowledge or practice skills, often requiring help from outside counsel for any issues that are not strictly internal or within their wheelhouse.

Why would my business need an FCLO?

Hiring a full-time in-house lawyer or law firm can be expensive, especially for startups, small, or medium-sized businesses. Additionally, a full-time in-house lawyer does not often engage with external legal issues or non-transactional legal work, meaning that if your business ever did encounter an issue that required this type of work, you'd need to pay for separate counsel in addition to your full-time in- house lawyer. An FCLO can provide the same level of support and expertise at a fraction of the cost. Additionally, an FCLO can be more flexible than a full-time employee, adapting to the needs of your business as they arise. FCLOs bring a wide range of skills and practical experience, meaning that the need for external counsel significantly decreases as well.

What is the benefit of an FCLO?

In summary

- Avoid employment and overhead expenses traditionally associated with corporate law firms and in- house counsel.
- Tailor made legal solutions for you or your small/medium business or startup.
- Affordable legal services from a licensed attorney who has personal knowledge regarding you, your company, and your market.
- Flexible cost plans including flat rate services, reduced fee plans, and consultations.
- Timely access to an attorney you trust for time-sensitive issues.
- Discounted legal services by the same FCLO for matters outside of your plan.
- An attorney to provide legal advice on business matters as well as specific legal matters, whether transactional or litigation.

What services can a Fractional Chief Legal Officer offer?

- On-demand answers to legal questions
- Contract drafting and negotiation - Employment law and HR issues and compliance
- Compliance with industry-specific regulations and requirements - Outside counsel for litigation needs
- Intellectual property protection and enforcement at every level of the organization
- Risk management and dispute resolution for intra and inter-company mediation and arbitration services and representation.
- Discounted legal assistance for employees in need of personal legal services such as real estate transactions, divorce representation, and will drafting and execution.

How do I choose the right FCLO for my business?

When choosing an FCLO, you should look for an individual who has experience in your industry and with the types of legal issues that are relevant to your business. The individual should have good communication skills and the ability to work well with your team and culture. Unlike most attorneys, some of our FCLOs have experience as executives of companies and provide business insight as well as legal advice. Others have experience in marketing and advertising, providing advice on compliance with industry regulations and legal parameters. Overall, you want to find someone whose expertise and experience align with your expectations, and who you and your team can work with on a personal level.

How does a company work with a Fractional Chief Legal Officer?

Companies can work with an FCLO by contracting with a service provider. FCLOs typically charge an hourly, flat-fee, or project-based fee for their services. The fee structure is agreed upon in advance and depends on the scope and complexity of the legal work required. Alternatively, companies can hire an FCLO on a part-time basis and limit their weekly or monthly hours depending on their needs. The bottom line is that an FCLO is intended to meet your needs without exceeding your budget and our FCLOs work with you to make that happen.

What industries can benefit from working with a Fractional Chief Legal Officer?

Businesses in any industry can benefit from working with an FCLO, but new businesses, startups, highly regulated industries, or those with complex needs may see the most benefit. Industries that require professional licensing for employees and managers would also benefit from an FCLO to help ensure compliance with local, state, and federal requirements.

What if I already have in-house legal counsel?

Utilizing an FCLO is not always intended to replace or negate the need for full-time in-house legal counsel. Our FCLOs also specialize in assisting present counsel with highly sensitive and/or deeply complex legal issues that arise in the course of running a business. For example, many in-house attorneys are not well-versed in Mergers and Acquisitions, a gap in knowledge and practical experience an FCLO can fill. Additionally, FCLOs can be utilized on-demand for one-off legal questions that your current in-house counsel needs additional guidance on.

Is there anything an FCLO doesn't do?

Frankly, no. Our FCLOs have worked in a variety of industries at many different levels and bring unique perspectives to the legal situations they handle. Where one FCLO may not have the answer, another will, and if our FCLOs can't provide you with an answer or service you need, we know attorneys who can and will facilitate whatever is needed to expeditiously provide that information to you.

What if I pick an FCLO and want or need to switch to another?

Our Fractional Chief Legal Officers work hard to make sure that no matter your need, they provide valuable legal insight and assistance. However, sometimes personalities and work styles simply don't work well together and that's perfectly ok. Any time you feel the need to swap your present FCLO for another one, we not only help direct you to the FCLO in our organization best suited to your needs and work style but also help facilitate the transition for as seamless an experience as possible. Additionally, the replaced FCLO remains available to answer non-substantive questions for up to 30 days after transitioning away from your business.

What is your policy on refunds?

Due to the nature of legal work in general, refunds are approved differently in different situations. For flat fee matters, refunds will not be granted where the FCLO has fulfilled a majority of their obligations or undertaken steps to advance your case. Hourly matters are billed against a retainer funded prior to beginning work. There, if the matter is resolved and a balance remains in the retainer, it is refunded without delay. Refunds on other payment structures are evaluated on a case-by-case basis.

My company is not in New York or New Jersey; can I still use your services?

The short answer is yes, but with some limitations. An FCLO can provide legal assistance to companies based out of states other than New York or New Jersey as long as certain conditions are met. The FCLO you choose must be admitted pro hac vice to the relevant state and may only assist on limited litigation matters. Transactional matters that do not constitute legal advice are not an issue, but it's still a tricky situation and will require an extended consultation to determine whether our FCLO service can lawfully provide the services your business needs.

Do FCLOs only work remotely, or can one come work on-site at my business?

Each FCLO makes the determination of whether their schedule allows for in-person work themselves. Some of our FCLOs are more flexible than others and their profiles will indicate whether they are available for on-site assistance and, if so, which locations they can service. As with everything, the best way to find out the answer to this question is to ask the FCLO you want to work with. They are always willing to discuss your options and help develop a solution that works for you and your business needs.

The information provided on this website does not and is not intended to, constitute legal advice. Instead, all information, content, and materials available on this site are for general informational purposes only. Information on this website may not constitute the most up-to-date legal or other information.
Let's Get Started
Get Priority Access to FCLO's Legal Services
© FCLO.LEGAL All rights reserved. Affiliated with The Law Office of Barry E. Janay, P. C.FCLO.LEGAL is a trade name of The Law Office of Barry E. Janay, P.C., 354 Eisenhower Parkway, Suite 1250, Livingston, NJ 07039.This page and all other pages and forms (not including external links) on this Website (c) 2023 The Law Office of Barry E. Janay, P.C.